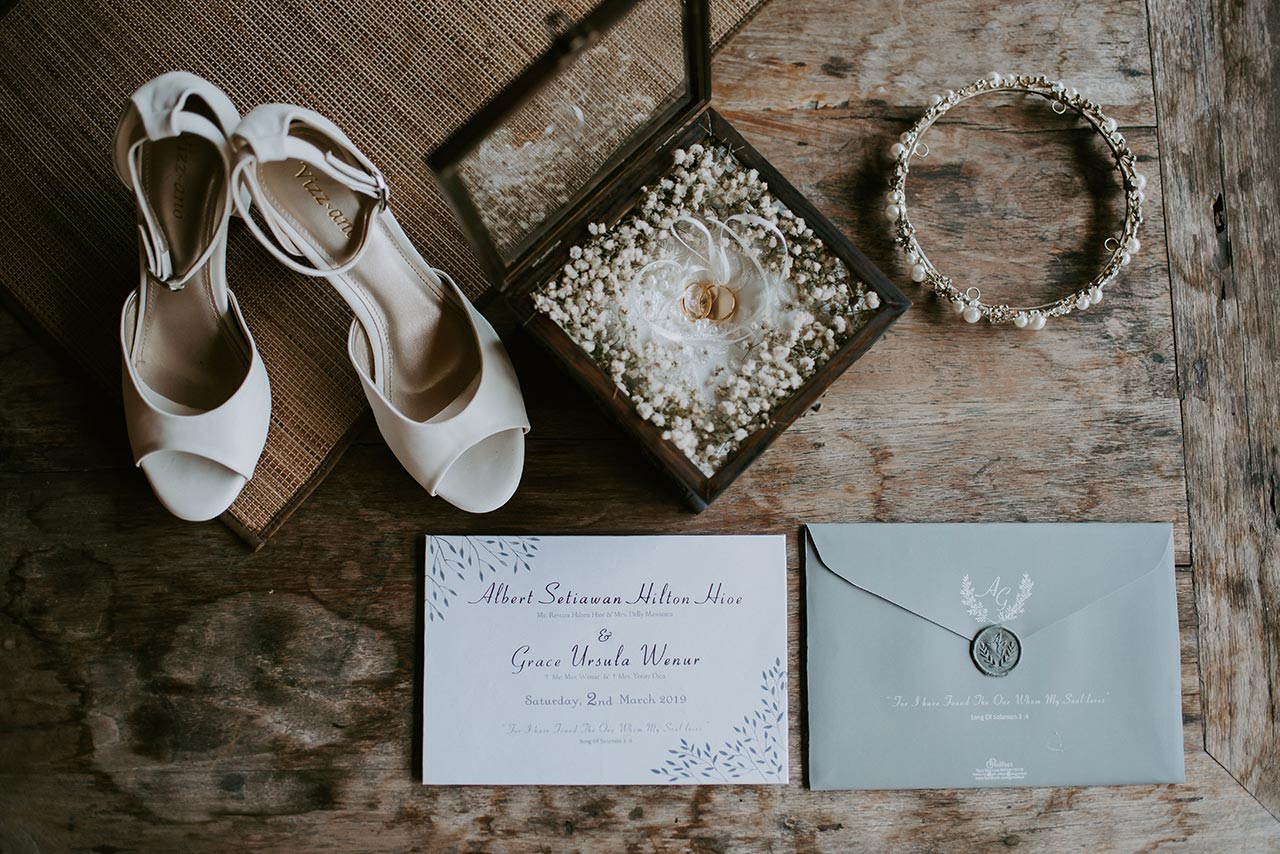 Flat lay photo has become a trend in recent times. This style of photography is a way of shooting by collecting and arranging several objects related to the wedding day and then photographing them vertically from top.
The flat seems to be a canvas and the objects that are arranged will usually convey the story about the event on the wedding day. And, this is what makes flat lay style trend these days because for most people who see the photos, they will not only amazed by the beautiful color of the photo but also will be reminded of the happiness of the wedding day. Why is this style of photography so popular among photographers as well as wedding couples around the world? Here is why
Be a Part of the Story on Your Happy Day
Flat lay photo style on the wedding day will include important objects or items related to your wedding day. In other words, this photo will be a story or memory of what you were wearing at that time. It's not just what you're wearing but also when and where the two of you will have the wedding – because many of these photos use the wedding invitation as the main object of this style. One day, this photo will be a story for your grandchildren to explain what your wedding was like.
Showcasing the Trending Documentation Aesthetic
Depending on the creativity of the wedding photographer, the flat lay style will bring a charming aesthetic to your wedding documentation. This trend was carried over through social medias which were uploaded by many brides around the world and made them famous – followed by many wedding photographers and loved by brides. It feels like all wedding photographers will not miss the opportunity to show their creativity through this flat lay photo.
Bringing You Closer to Your Wedding Photographer
Of course in order to produce the best possible wedding documentation, you and your wedding photographer have to trust each other. Planning a flat lay photo shoot will take you and your wedding photographer on exciting creative ideas. This will certainly bring both parties closer in planning what objects will be included in this trending shooting style. Your photographer should know about the theme and color of the wedding and of course the objects that will be worn on your special day together.
Photo That Will Be A Beautiful Memory For Both Of You
All the wedding documentation will bring fond memories back to your wedding day in the future. However, because the flat lay photo style is more specific in displaying the details of the items you both wore, your memory will become more specific when you remember the day, date, and what to wear on your happy day. Trust your photographer who will produce flat lay photos as the most memorable photos on your wedding day.
What Should be Displayed on the Flat Lay Photos
So what can you display in your flat lay photos? 'Keep it simple' is always the theme of this photo style by displaying invitation cards, wedding rings, watches, shoes for the bride or groom, can be cufflinks or your bouquet and boutonnaires, and other details that will make you both remembering your wedding day.