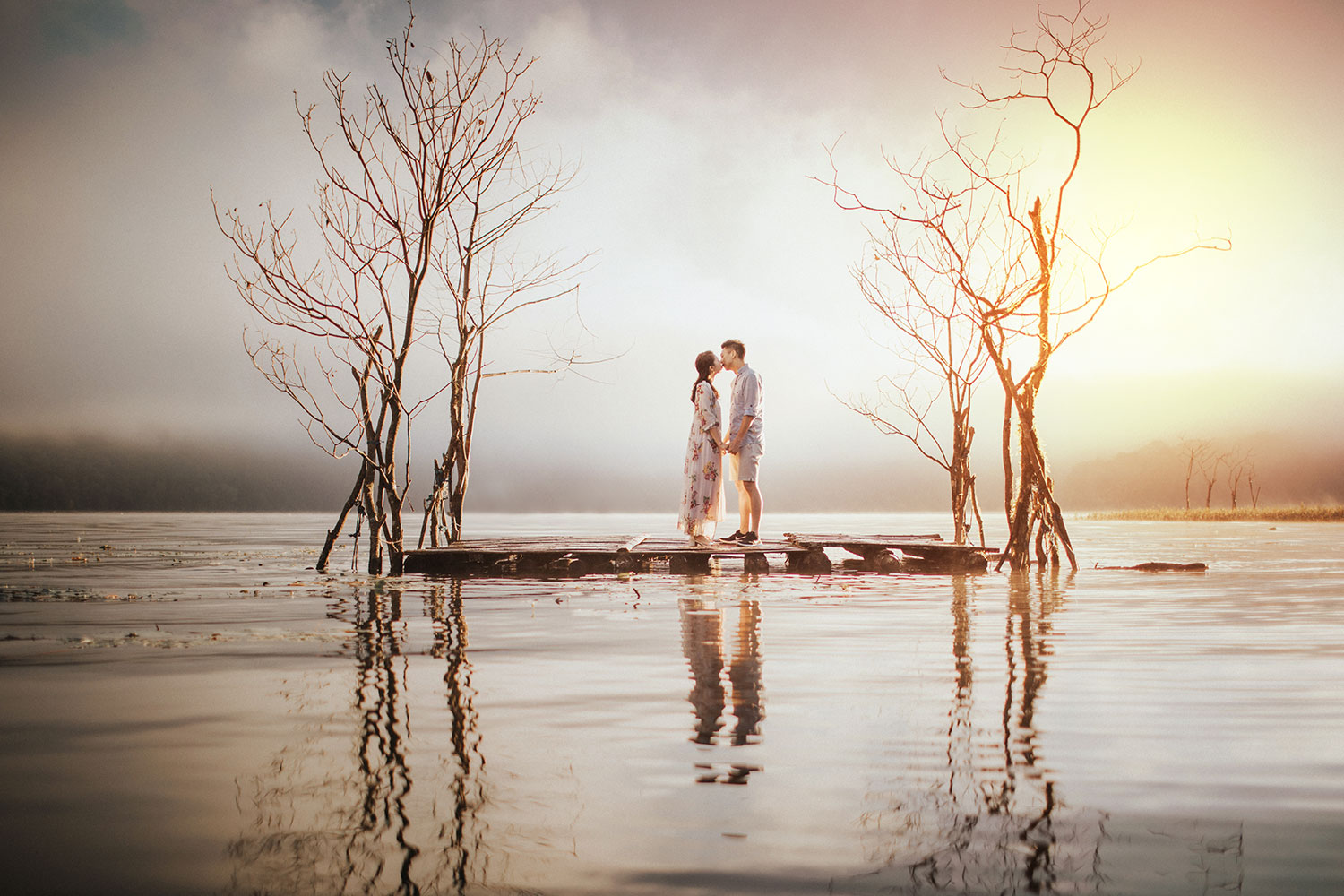 Lake Tamblingan is located on the northern slope of Mount Lesung, Munduk Village, Banjar District, Buleleng Regency, Bali. This lake is one of the three twin lakes that formed in a large caldera. In the eastern part, there are Lake Buyan and Lake Beratan. Flanked by the surrounding forest and because of its location in the highlands, it makes the lake environment really cool.
As one of the natural tourism object, Lake Tamblingan is not developed towards modern tourism in order to preserve nature and its environment. The main attraction of this place is not only its natural charm, but also the precence of many temples that keep the history and development of Balinese civilization and culture, especially regarding the formation and development of Tamblingan Village.
However, Lake Tamblingan is also become one of the most favorite pre-wedding photoshoot location in Bali. Apart from the unspoiled environment, this place also has a very charming sunrise. Here are some things that make Tamblingan perfect for your pre-wedding photoshoot.
Natural Environment
Unlike other lakes which there are many buildings around, Tamblingan is still very natural. As far as the eye can see, only green hills and forests are soothing to the eye. It is perfect for nature themed pre-wedding photo.
Foggy Sunrise
This lake is unique and highly admired by photographers. When the sun starts to emerge from behind the hills, its warm light will shatter the fog on the hills around the lake, drop to the surface of the water and turn golden. Trust me, this fog looks very beautiful when you do romantic poses in the middle. But we can't see this view all the time, only when the weather is clear and windless.
Traditional Twin Boat and Bamboo Raft in the Middle of the Lake
Locals made several rafts made from bamboo and dry tree branches in the middle of the lake as a place for pre-wedding photoshoot. To get to the raft, the couple will get on a twin boat which looks very classic. The photographer will direct you to pose on the boat and also on the raft.
Balinese Temple located in the middle of the lake
Actually this temple is located on the edge of the lake, but the high tide condition will fill the temple area which makes this temple looks floating on the water. This is a very dramatic background for your pre-wedding photos.
Close to Other Natural Prewedding Spots
Tamblingan Lake is located between several other natural themed pre-wedding spots such as Munduk Waterfall and Wanagiri Hidden Hill (swing with lake views). So if you decide to choose this place, it will not only the lake, you can also take pictures at the waterfall and swing.
For Tamblingan Lake trip, we have to leave early in the morning around 3.30am to catch the sunrise. If it is late, the photo will not be as good as it is not late: D