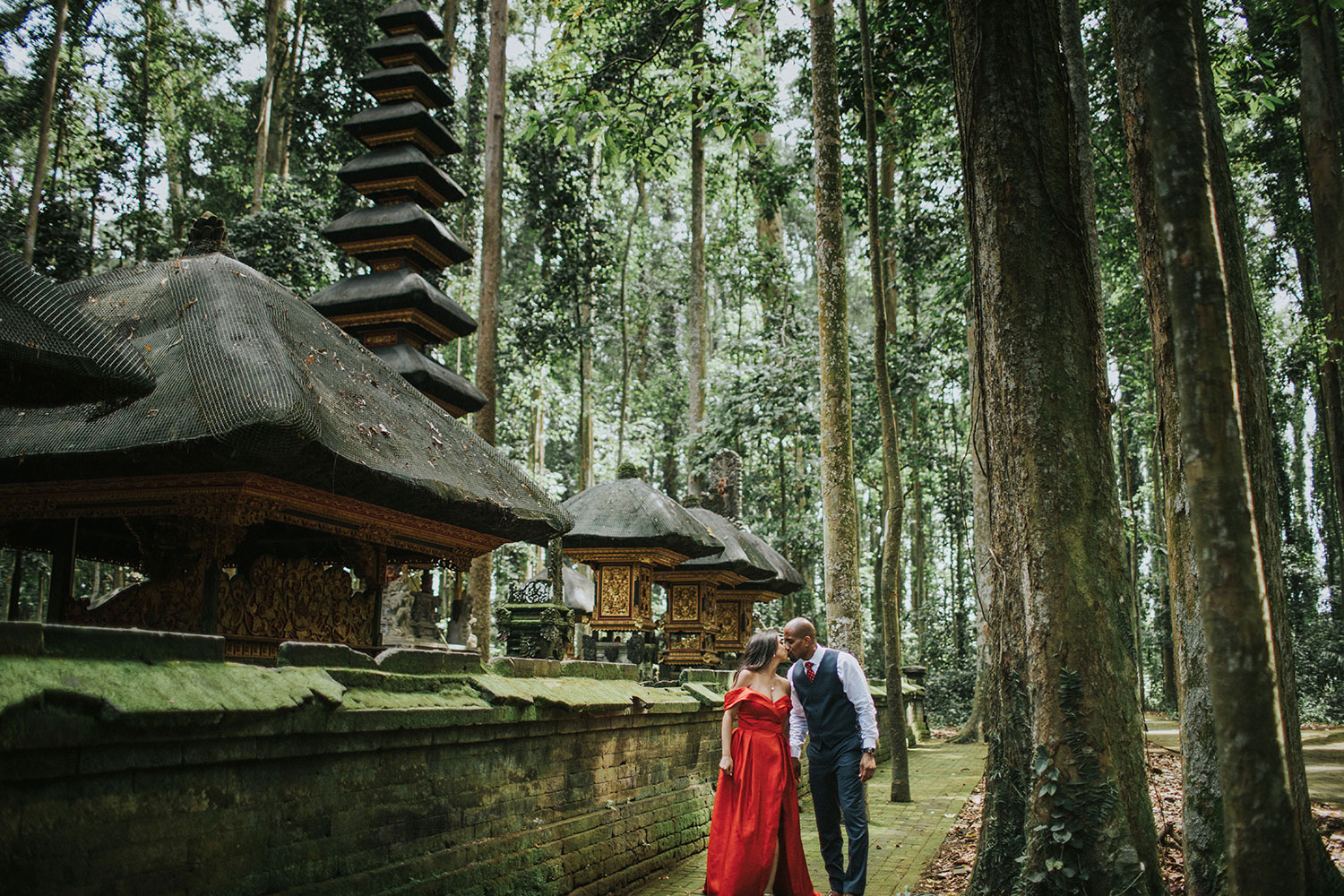 Sangeh Monkey Forest and Temple is one of the most favorite tourism site which is located in Sangeh Village, Abiansemal District, Badung Regency. It can be reached around 1 hour from the Airport.
It's a tropical mini forest inhabited by hundreds of tame monkeys and dominated by nutmeg trees towering up to 50 meters, so it is very shady and feel really cool during the photoshoot so you don't get tired easily and keep your mood remain good in posing.
Just like other monkey forests in Bali, Sangeh is very well organized area, adequate supporting facilities such as large parking lots, toilets and a number of well trained guide.
In the middle of the forest, there is a temple called Pura Bukit Sari, the existence of this holy place indicates that this place is sacred. One interesting thing, the monkeys that inhabit this little forest have a number of colonies or groups, and each group has a monkey as the leader, and they have one highest leader or a king which is very special. He will always be prioritized in matters of food, living areas, or female monkey.
Here are some things that make Sangeh worth to be considered as one of your pre-wedding photo spot in Bali.
Forest & Balinese Temple
As explained above, Sangeh has a unique Balinese temple, located in the middle of a very shady green forest. So your photo setting will not only forest, we can also use the temple as the background.
Strategic Location
Sangeh is located in the middle of the island of Bali and it is a strategic route if you choose Lake Tamblingan, Kintamani Volcano, or Ubud photo shoot trip. So you can make it the second or third location after Tegalalang rice terrace, Lake Tamblingan, or Kintamani Volcano.
Photo with The Monkeys
Of course we can take pictures with the monkeys which are inhabit Sangeh, it can be a unique pre-wedding photo right? Don't worry, the monkeys are quite tame and the tour guide will help us to take pictures with the monkeys.
Tropical Green Color Typical of Bali Island
For some reason, we really like the green color in Sangeh. The trees, the floor, the colors of the temple, everything is tropical green typical of the island of Bali. The pre-wedding photo will look amazing and truly Balinese.
Photoshoot Ticket Price
Like other tourist objects, Sangeh also charges special tickets for professional photo shoots, which are IDR 500,000 for foreigners and IDR 300,000 for domestic. If you just visit, maybe the ticket is only around IDR 15,000-IDR 20,000.