So, you plan to use some little kids to play some roles on your wedding ceremony such as flower and rings bearer? Here is some things to note.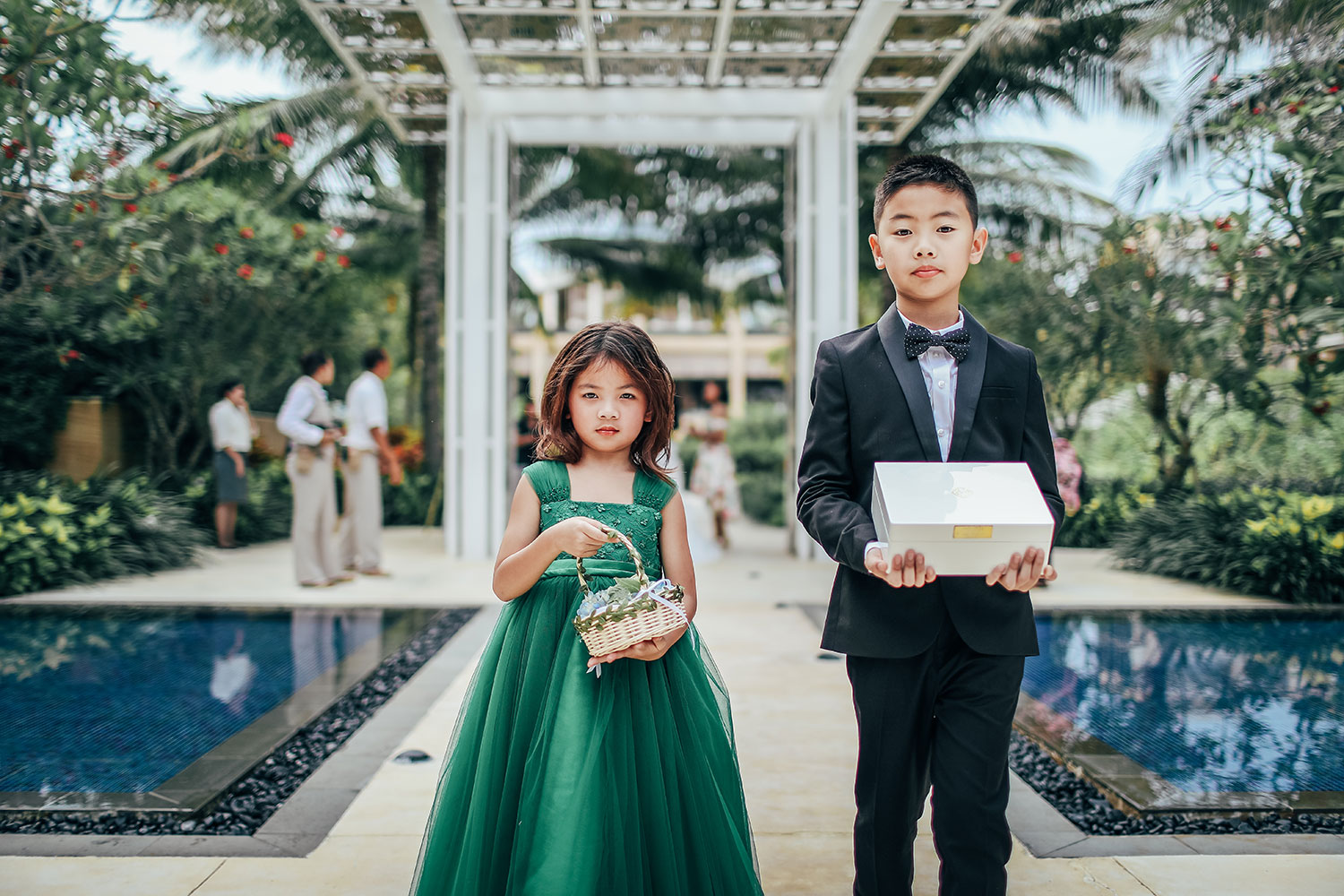 Who to choose:
The flower and ring bearer usually 4-8 years old. Candidates to choose are those that are guaranteed can follow any direction, feel comfortable even in the crowd (even when parents are not with them). Friendly, happy smile, and ready to make you a star at the altar in all conditions.
What to do:
Ring bearer mostly boys, although this time, the girls began to be asked too. Their job is to bring the wedding rings for the bride and groom, who tied ribbon above the tiny pads. Their steps should be followed by the flower girl whose job is to spread flower petals along the path traversed by the bride.
What they wear:
Usually the flower girl wearing a dress or skirt and ring bearer wearing shorts with knee-high socks and jacket which is commonly referred as the Eton Suit. But this time, whatever may be worn during age-appropriate and fit the theme of your wedding, kind of dresses, overalls, or any sailor shirt is okay.
How:
Include these children in training so that they can train their part and feel comfortable at the location. Before the event started, make sure everyone who's involved to help you know the location of toilet. The other thing, make sure the seating position of their parents are located nearby the street so that they can see their parents' faces and feel calm when walking escort you down the aisle.
If they freak
Pass the escorting bride plan and let them sit with their parents during the ceremony. Even children who successfully accompany the bride to the altar in the end have to sit with their parents, rather than remain standing at the altar.
In addition to flower petals
Not only the flower petals that can be carried by the flower girl. You can change the flower petals with other objects that are not less pleasant as:
– Flags or small rectangular or triangular pennants
– Blowing soap bubbles
– Playing a small sun umbrella
– Ring a small bell
– Bring windmill paper, flower, or light paper
– Waving hands to the guest
Some unforgettable stories
This is the story of some brides about their "unforgettable" wedding because the negative behavior of flower and ring bearers:
– When nearly approached the altar, a flower girl in my wedding party shouted for her mother and said if she wanted to pee.
– Flower girl in my party was sullen every time photographed and refused when she had to accompany me to the altar. As a result, the ring bearer boy had to be pulled all the way down the altar.
– During the ceremony, our wedding ring bearer boy run around then he slammed into the carpet and rolled around. At night, I saw him crawling under each table for guests raised every women skirts.
Other Articles
Flat lay photo has become a trend in recent times. This style of photography is a way of shooting by collecting and arranging several objects related to the wedding day and then photographing them vertically from top.The flat seems to be a canvas and the objects that are arranged will usually convey the story about […]
Are you planning to get married and hold a wedding reception on the beach in Bali? So many resorts offer an amazing wedding venue, maybe in a serene chapel, in a natural tropical green landscaped garden, or even at their hip and chic beach club for an exciting party! Maybe this pandemic doesn't allow you […]
Blangsinga or also known as Tegenungan is the nearest waterfall if you stay in southern part of Bali like Kuta, Seminyak, Nusa Dua, and Canggu area. It has an easy access that made this waterfall is crowded by tourist almost everyday. We have to come in the morning to avoid the crowded. There are also […]