One friend gave me a very interesting book as birthday gift about wedding photography by Neal Urban, an American photographer who won several prestigious awards. Well, I'll share a little summary in several articles in this blog. Enjoy…
Take Your Time
One nice thing about engagement shoots is that you have control of the time and place you'd like to shoot. When shooting a wedding you are totally locked in to the time the couple want to shoot, which is most often the worst time of the day (in terms of the available lighting). But for pre wedding, you can mix it up and shoot at night or whenever you like.
Location Selection
For best results, plan your night shoot in a place where there is a lot of ambient light to make the background look interesting.
Add Some Light
One approach to shooting at night is to add light on the subjects to balance them in relation to the ambient light in the background. Flash works well for this purpose, allowing you to freeze the subjects with the short of burst of light. Then, leaving the shutter open past the flash sync speed allows the ambient light to continue to register to whatever level you choose.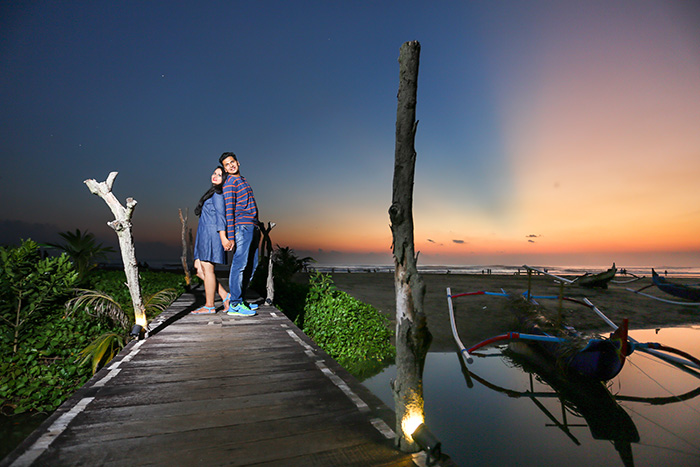 Use Ambient Light Only
Another approach is to shoot using only the ambient light. Identifying light sources and positioning your subjects relative to them can create beautiful results. As seen in the photo below:
The photo was created using ambient light only; the subjects were positioned in the beam of the tree's lamp to make them stand out in the composition. With some simple 'highlight & shadow' and temperature adjustment in lightroom then the photo will looks perfect.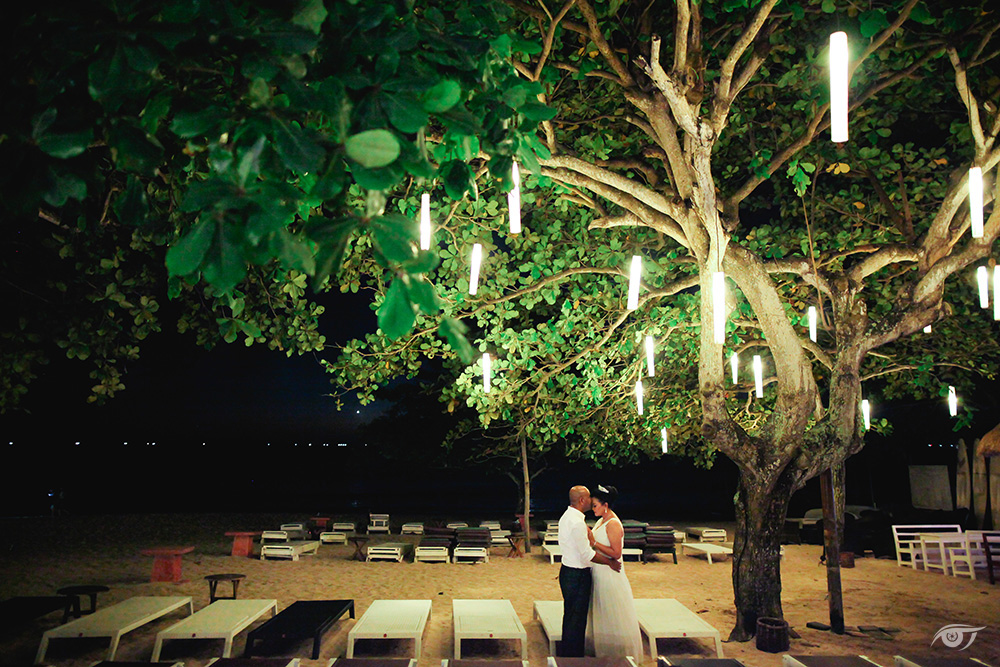 Other Articles
Flat lay photo has become a trend in recent times. This style of photography is a way of shooting by collecting and arranging several objects related to the wedding day and then photographing them vertically from top.The flat seems to be a canvas and the objects that are arranged will usually convey the story about […]
Are you planning to get married and hold a wedding reception on the beach in Bali? So many resorts offer an amazing wedding venue, maybe in a serene chapel, in a natural tropical green landscaped garden, or even at their hip and chic beach club for an exciting party! Maybe this pandemic doesn't allow you […]
Blangsinga or also known as Tegenungan is the nearest waterfall if you stay in southern part of Bali like Kuta, Seminyak, Nusa Dua, and Canggu area. It has an easy access that made this waterfall is crowded by tourist almost everyday. We have to come in the morning to avoid the crowded. There are also […]